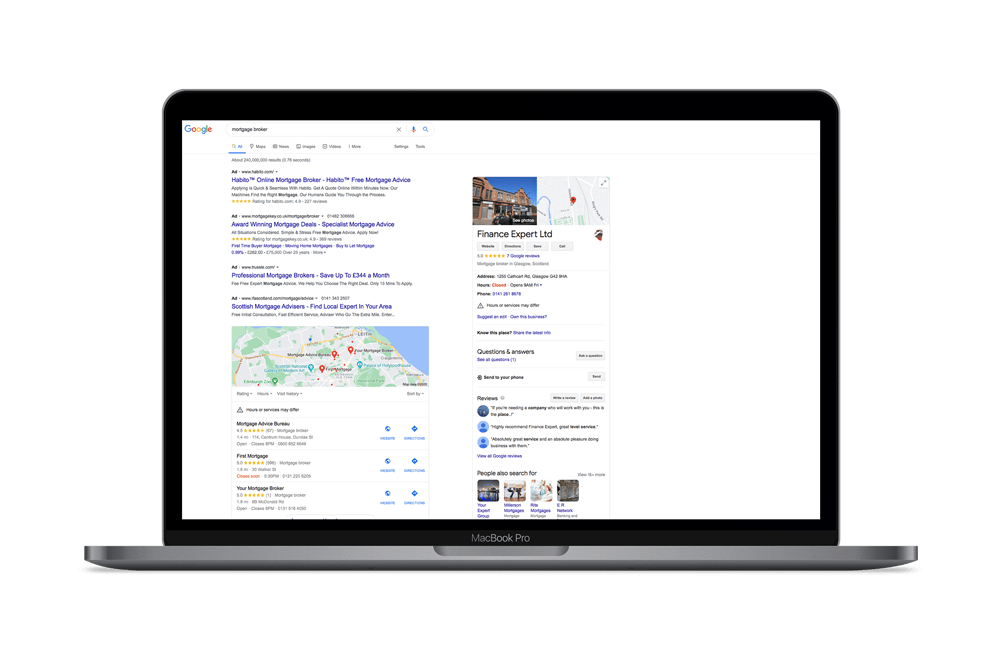 Affordable SEO Services
If you're a sole trader, start-up, small or medium-sized business, Darroch Digital provides affordable SEO services for Edinburgh, Glasgow, and beyond.
Specialising in increasing high-quality traffic from search engines and ultimately increasing brand visibility and sales, Search Engine Optimisation can be a highly effective marketing channel to grow your business online.
Benefits of SEO
There are many reasons why you should use Darroch Digital to optimise your website for SEO. Here are our top reasons.
SEO helps build your brand
By allowing us to enhance your SEO, your website will attract people who have never heard of your business. Trust and credibility can be gained by creating effective SEO content writing providing you have professional website design.
Earn more free traffic than any other marketing channel
Compared to other marketing channels, you don't have to continually pay to be noticed. Once your website is optimised for SEO and we're continually improving this for you, SEO can provide long-lasting returns.
Stay ahead of your competitors
If we continually improve your SEO, we won't be just improving the amount of traffic and sales, it'll also be helping you stay ahead of your competitors.
Target business in a local area
By optimising your page for local SEO, you can attract more traffic, engagement and conversions by focusing on local areas.
Improve your user experience
The goal of a search engine is to provide the most relevant answers for a users search query. So by us being able to competitively rank your web pages, this is a clear sign that your website is offering a strong user experience.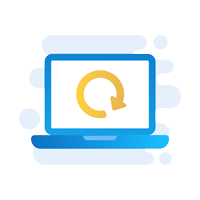 All In One Solution
All your website needs. One convenient point of contact. We're a multi-service solution.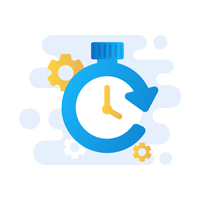 Fast Turnaround
We'll make sure your digital service is delivered quickly whilst never sacrificing quality.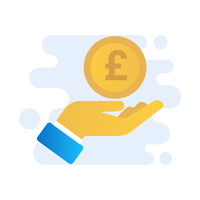 Great Value
We are cost effective which means more money in your pocket to help grow your business.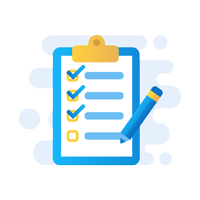 Quality Driven
Happy clients are key to growing our business. That's why we always deliver a high quality service.
We've created three pricing options which reflect our level of service.
Our Content package is designed for those who would like us to write the SEO content for their website.
Content + Local includes full content writing as well as setup of location pages and map listings. Content + Local + Audit is our comprehensive package suitable for existing websites who require to identify and address the underperformance of organic traffic.
We realise our pricing packages may not suit everyone. If this is the case please get in touch and we'll be delighted to quote for your requirements. 
Keyword research and SEO content creation.
✓ Keyword research
✓ SEO content writing up to 8 pages
✓ Upload of content on CMS
✓ On-page optimisation
✗Local SEO (map listings, up to 4 location pages)
✗ SEO audit
Keyword research, local SEO and SEO content creation.
✓ Local SEO (map listings, up to 4 location pages)
✓ Keyword research
✓ SEO content writing up to 8 pages
✓ Upload of content on CMS
✓ On-page optimisation
✗ SEO audit
Audit, keyword research, local SEO and SEO content creation.
✓ SEO audit plus fixes
✓ Local SEO (map listings, up to 4 location pages)
✓ Keyword research
✓ SEO content writing up to 8 pages
✓ Upload of content on CMS
✓ On-page optimisation
Content
Before we write the content for your website, we need to fully understand what your business provides. The more information we have, the more in-depth and relevant content we can create.
Once we have a sufficient level of information, we can then start to research relevant keywords. We'll look at their search volume, competition and intent. From this, we'll group keywords together and check to see if your website has the right information architecture. If additional pages need to be created we'll let you know.
With the keyword list (and pages created) we can then begin writing the content. Typically we'll write around 1,000 words per page. This will allow us to provide a good depth of information and broaden the keywords we can target.
As part of the content writing, we'll ensure headings and internal and external links are included. Page titles, meta description and URLs will be optimised for primary and secondary keywords. All of this should provide the best opportunity to attract the right customers to your website.
Depending on the number of pages to write content, this can take at least two weeks to deliver our first draft.
Content + Local
If you want your business to attract customers from specific locations, we'll create web page content, map listings and local citations to help optimise your site for local SEO.
We'll also create the content for the rest of your site. All of this will be informed by our keyword research service.
This can take around three weeks to deliver, depending on the number of pages.
Content + Local + Audit
This package is best advised for businesses who've already got a website but realise it's not generating the right quality and quantity of from natural search.
Before we dive in, like all our packages and work we undertake, we'll require a full breakdown of what your business provides.
Once we're ready to go, we'll undertake a technical SEO audit to ensure there are no issues impacting the crawling, rendering, indexation and ranking of your web pages. Depending on what's uncovered we'll either resolve these first or later in the process.
Next, we'll undertake keyword research to ensure we're targeting the correct keywords. With this data to hand, we can then begin the content writing, local SEO and on-page optimisation.
Once the technical issues have been resolved and the content is well optimised, we can be confident that your website is now following best practice.
Payment terms – 50% upfront and 50% on completion.
SEO Copywriting Service
The right words attract people, change minds and inspire action. They can even elevate your business above the competition. Darroch Digital creates content which delivers on this.
As your SEO content writer we will:
Understand your objectives and your business proposition

Perform a content SEO of your site

Undertake keyword and competitor research to identify the best keywords to rank for

Create bespoke SEO content to grow your business and improve rankings
Typically we'll create around 1,000 words per page. This takes time to research and to professionally write SEO content.
Keyword Research Service
Keyword research is the art and skill of discovering the best words, phrases and intention of potential customers who are searching for your business on search engines.
These are steps we'll typically follow:
Additional Services We Offer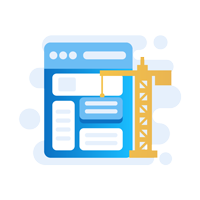 Website Design
Do you need a website or already have a website? From website design, hosting, email and maintenance, we provide provides a variety of cost-effective and practical solutions to get your business online.
Frequently Asked Questions
What is SEO?
Search engine optimisation or SEO as it's commonly known is the practice of enhancing your websites traffic (visibility) for relevant searches on search engines. SEO attracts natural traffic. Used effectively it's one of the most effective and cheapest marketing channels for your business.
Does SEO work?
Yes! Our SEO services will provide results for your business to increase natural search traffic. We'll be upfront when we expect results to show.
How much SEO cost?
Services start from £500 and go up to £1,000. We can also offer custom pricing depending on what your requirement may be.
How does SEO work?
To understand how SEO works think of it like a library.
The librarian want to find a book so starts looking. They find a book (your website) and starts going through it to understand what your book is about. This is the first step called crawling.
The librarian buys your book but before it goes on the shelf, they need to catalogue it. This is called indexation.
The third and last part is to decide where the book is stored. Depending on the theme of your book, they store it according to the genre. You want to make sure that the book ends up where customers are most likely to see it. This is a bit like keyword targeting and the essence of how SEO works.
However, it's a wee bit more complicated than that as there are 200 ranking signals which are constantly evolving.
How long does it take to rank content?
When new content is published, we recommend waiting 3 – 6 months for the rankings to stabilise. From this point we can start tweaking minor things to do see if it has an impact on page rankings.
Can I do SEO myself?
If you have the tools, skills and knowledge then anyone can do SEO. However just like anything in life, it takes time and patience to improve your skills.
How do you improve keyword rankings?
With over 200 ranking signals, there are many ways to improve keyword rankings. These could be across areas such as technical, content, on-page and link building.
How quickly does SEO work?
Depending on how often your site is crawled by search engines, this can take hours or days to start seeing improvement with SEO. The algorithm can also take time to understand what has been changed on a page and where it should rank on search result pages.
Can Google's algorithm updates impact my keyword ranking?
If your site doesn't follow best practice guidelines, when Google rolls out updates of its algorithm, it can either have a negative and positive impact on your keyword rankings.
That's why it's best advised to work with Darroch Digital to ensure your site follows current best practice to protect it against future search algorithm updates.
Get In Touch
Have any questions? Drop us an email, text or give us a call